Breed Profile – Wire Fox Terrier
20/08/2018
In our latest breed profile we find out more about the Wire Fox Terrier. This distinctive terrier breed has a bold character that needs a firm, positive hand.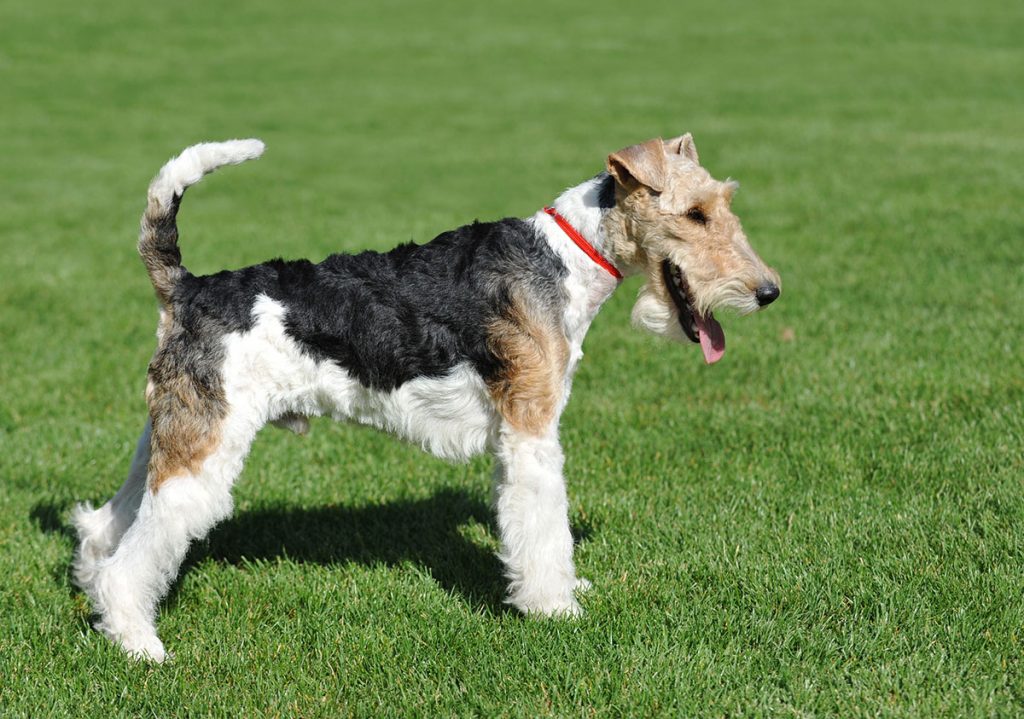 History of Breed: Although the Smooth Fox Terrier was the earliest to be recognised as a breed, the Wire Fox Terrier overtook the Smooth in the 20th century and remains more widespread today. Hunts traditionally included terriers for their tenacity and digging skills when a fox went to ground. Originally brown, black and tan, breeders developed terriers that were predominantly white to make them more easily distinguishable from foxes. In the show grounds of the 19th century, all varieties of Fox Terrier were shown together. However, in the 1870s, the wire-coated variety was shown separately and from then breeders were encouraged to keep the two coat varieties separate.
Life Expectancy: Over ten years, about twelve or thirteen on average.
Size: A small dog with a height range of up to 39cm and a weight range of up to 8kg.
Features: The Fox Terrier's short back and long, powerful thighs give it an alert, expectant look. An erect tail and small, v-shaped, erect ears add to its character. The breed has a wedge-shaped head ending in a black nose and dark, almost circular eyes. The distinctive coat of the Wire Fox Terrier requires a high level of maintenance. Regular grooming is essential, as well as 'plucking' to remove shed hairs. Clipping is inadvisable because it can lead to irritation and deterioration is coat colour and texture. In colour the coat is predominantly white with black, tan or black and tan markings. The coat itself is dense and extremely wiry. The hair on the jaws has a crisp beard-like appearance and hair on the legs should be similarly dense and crisp.
Energy Levels/Exercise Required: The active and lively Fox Terrier requires a moderate amount of exercise: about one hour a day. They make a good choice for owners who enjoy a reasonable amount of activity, but do not have the time to devote to a larger, high energy breed such as those from the gundog group. Activities that reflects the terrier's natural instincts will exercise the breed mentally as well as physically. Plenty of exercise will help to keep any behavioural problems in check.
Potential Health Problems: Apart from a condition called megaoesophagus, the Wire Fox Terrier is generally a hardy breed with a long life span. The Fox Terrier can, however, be prone to allergies. Occasionally, a change in diet can alleviate the symptoms of some allergies. Gilbertson & Page have recently extended their offerings of specialist dog foods to include a grain-free offering. The Dr John range now includes Dr John Grain Free Chicken and Potato, as well as Dr John Hypoallergenic Lamb with Rice and Dr John Hypoallergenic. It is important to seek the advice of a vet if you have concerns about allergies.
Temperament: As with many breeds in the terrier group, the Fox Terrier requires a firm hand in training. They are bold and fearless in nature with an instinct to dig. Early socialisation and consistent training from an experienced owner are essential to prevent a tendency towards stubbornness, snappiness and digging whenever possible. However, a well trained Fox Terrier can be friendly, full of fun, loyal and affectionate.
Child Friendly/Family Dog: As mentioned above, the Fox Terrier makes a great family pet given the correct socialisation and training. It goes without saying that adults should always supervise dogs and small children regardless of breed. The Wire Fox Terrier is happy in a small house with some outdoor space to run off excess energy.
Likes: Digging, games, company.
Dislikes: Solitude, lack of exercise.