Hendrix The Hill Walking Dog
14/07/2017
In a new series of articles, we're finding out a bit more about those special canine companions in your lives and what makes them tick. First up, Jim Pickard's black Labrador Retriever, Hendrix, who accompanies him on all his hill walking adventures.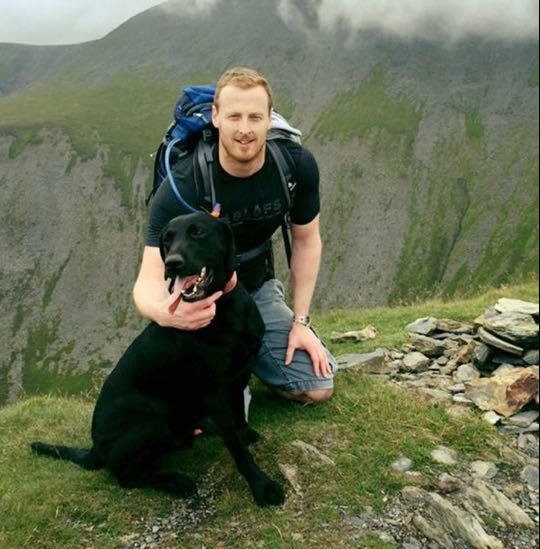 Name: Hendrix
Age: 4 years.
Breed: Labrador Retriever.
Owner: Jim Pickard
How long have you had Hendrix? 
Hendrix was a birthday present from my wife, Jayne. He was just 10 weeks old when I got him.
When did he first accompany you on your hill walking adventures?
A couple of years ago, Jayne and I went camping for the night at a site on the south east shore of Ullswater. In the morning we climbed the nearest mountain – Place Fell – and so a hobby was born!
What's been your most memorable adventure with Hendrix?
There are lots of memorable adventures, it's hard to choose just one. We've been out in almost every conceivable weather condition – Hendrix handles the rain much better than me. My favourite would have to be our epic hike up Scafell Pike. Along with five other friends, we covered five mountains and 17 miles on a beautiful, sunny day. Another memorable moment was trudging through two feet of snow on Blencathra with Hendrix walking beside us on top of the snow.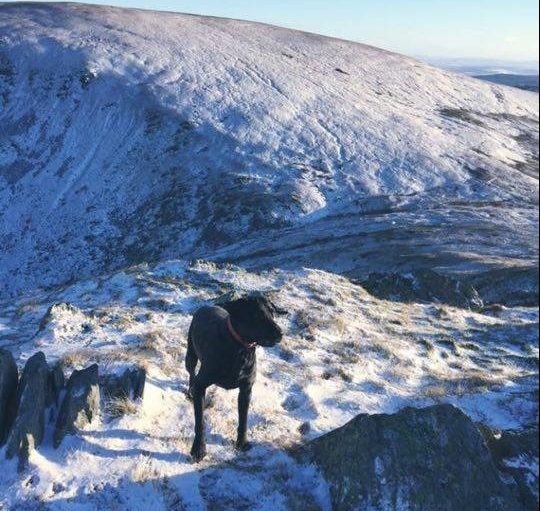 Can you tell me a bit about his personality?
Hendrix loves people and dogs. He's extremely friendly and excitable with both. And he loves attention too. Whenever he's in a pub he likes to lie down where people will need to walk so that anyone passing has to stop and stroke him. We're very lucky to have a such a good-natured, loving dog.
What's the best thing about Hendrix?
The best thing is his nature. He's a great companion to have out on the hillside and his enthusiasm keeps morale high in all weathers and challenging conditions. Most people see the excitable, friendly side of him, which I love, but at home he's usually much calmer and a big softy. Watching his relationship grow with our seven month old daughter is so lovely too. He waits patiently by her high chair for any scraps and she's very willing to oblige! He's a loving family dog at home and a hard-working, loyal companion on the fells; the best of both worlds.
Are there any challenging aspects to his character?
As mentioned, he's just so excitable, which can mean he pulls on his lead when he sees another dog he's interested in. Or he barks when someone comes to the door and wakes the baby!
What does Hendrix love best?
Hendrix loves food, balls, dogs and people. Most of all he loves walkies. I've never seen him run out of energy and I've never seen him full.
A classic Labrador, then! Finally, does he have any dislikes?
Thankfully, he hates chocolate. He actually recoils if you put it near him.
Jim, thanks for taking the time to tell us about Hendrix. It's been good getting to know him.
All images are courtesy of Jim Pickard.