Breed Profile – Korthals Griffon
19/12/2016
For our latest breed profile, we're taking a look at an HPR (hunt, point, retrieve) gundog that is popular on the continent. The Korthals Griffon (also known as the Wirehaired Pointing Griffon) has an appealing rugged appearance with a keen, intelligent expression. Find out more in our shaggy dog story.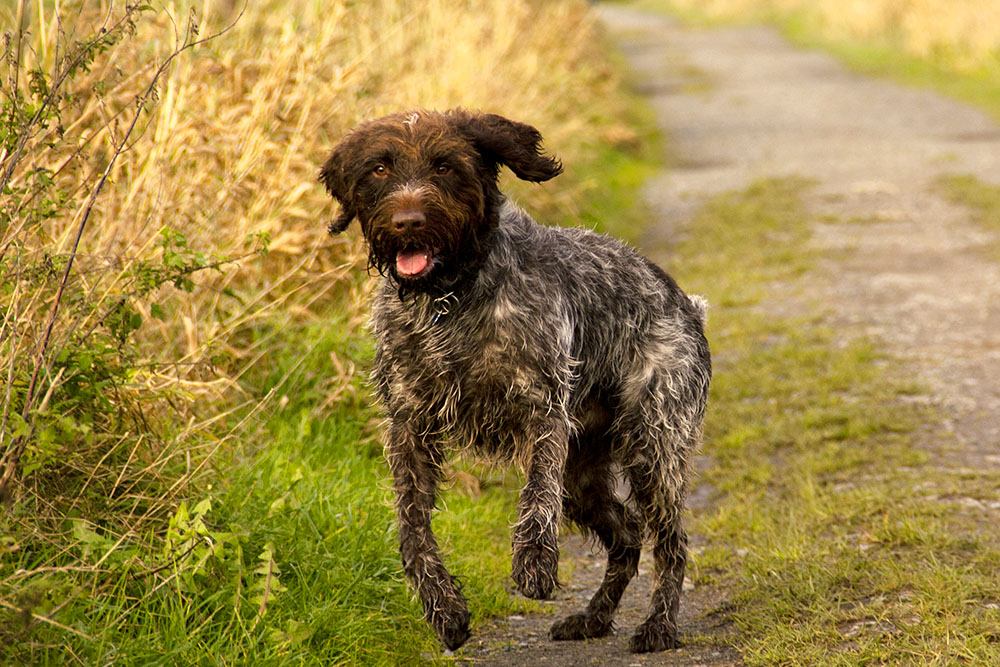 History of Breed: The Korthals Griffon is named after the man who developed the breed, Dutchman Edward Korthals. Korthals worked his dogs in woodland, wetland and fells to produce a versatile HPR breed. The breed is more popular with continental hunters, particularly the French, than it is in the UK, the US and Canada.
Life Expectancy: About 12 years.
Size of Dog: Medium, breed standards dictate dogs should be 55-60cm and bitches 50-55cm at the withers.
Features: A coarse weather resistant coat with shaggy eyebrows, moustache and beard contribute to the Korthals Griffon's rugged appearance. The most desirable coat colour is steel grey with brown markings, though other colours are permissible. The breed has a deep, slightly sprung chest and is slightly longer than it is tall. The legs are straight and strong.
Energy Levels/Exercise Required: As with most gundog breeds, the Korthals Griffon has a lot of energy to expend and will need about two hours of exercise every day. It is especially important to exercise their gundog instincts with plenty of retrieval games. A dog that is designed for long days working in the field will require a dog food that provides all the energy and nutrition to sustain it. A feed such as Dr John Titanium is specially designed for working adult dogs. Titanium contains a joint and bone complex, 25% protein and 15% oils and fats to keep high energy, working dogs in peak condition.
Potential Health Issues: Most gundog breeds seem to be particularly prone to hip and/or elbow dysplasia. This is no different for the Korthals Griffon and the Kennel Club recommends genetic testing for dysplasia before breeding. Dysplasia can be alleviated by maintaining the correct weight and ensuring puppies do not jump or over exert themselves before joints are sufficiently formed. Carrying excess weight exacerbates dysplasia, so regular exercise and feeding to condition are essential for this breed.
Temperament: The breed is gentle and loyal and a perfect companion. Neither timid nor aggressive, but its loyalty makes it protective of its owners. Intelligent and obedient, the breed responds excellently to training.
Family Dog/Child Friendly: The Korthals Griffon's loyal and easy-going temperament makes it a great family pet. In addition, it will be protective of its family and a good guard dog. A large house with a large garden to burn off extra energy would suit it best. However, a smaller home in a rural environment, with plenty of open spaces nearby would also be okay. Not surprisingly, gundogs have a natural instinct to chase and retrieve small, furry creatures. This is something to bear in mind for those with small, furry pets who may be considering the breed!
Likes: Lots of outdoor exercise, games that stimulate HPR instincts.
Dislikes: Lack of attention and exercise, being indoors too long.