Diary of a Gun Dog Episode 7: The End of the First Year
23/06/2015
Oscar is now one year old and a lot has happened in the last year. He has settled well in his home with his family. He has taken to gun dog training like a duck to water, making his owners exceptionally proud. Oscar's turning-out to be a well-behaved and good-natured dog and has grown strong and fit, partially thanks to Dr John Titanium, which has agreed with him very well. Oscar has had some great outings in the last few weeks. He's been to the seaside and enjoyed a day at the beach, been wild camping and had a friend to stay. He's also been working hard with Mr R to iron out his quirk and to improve his casting.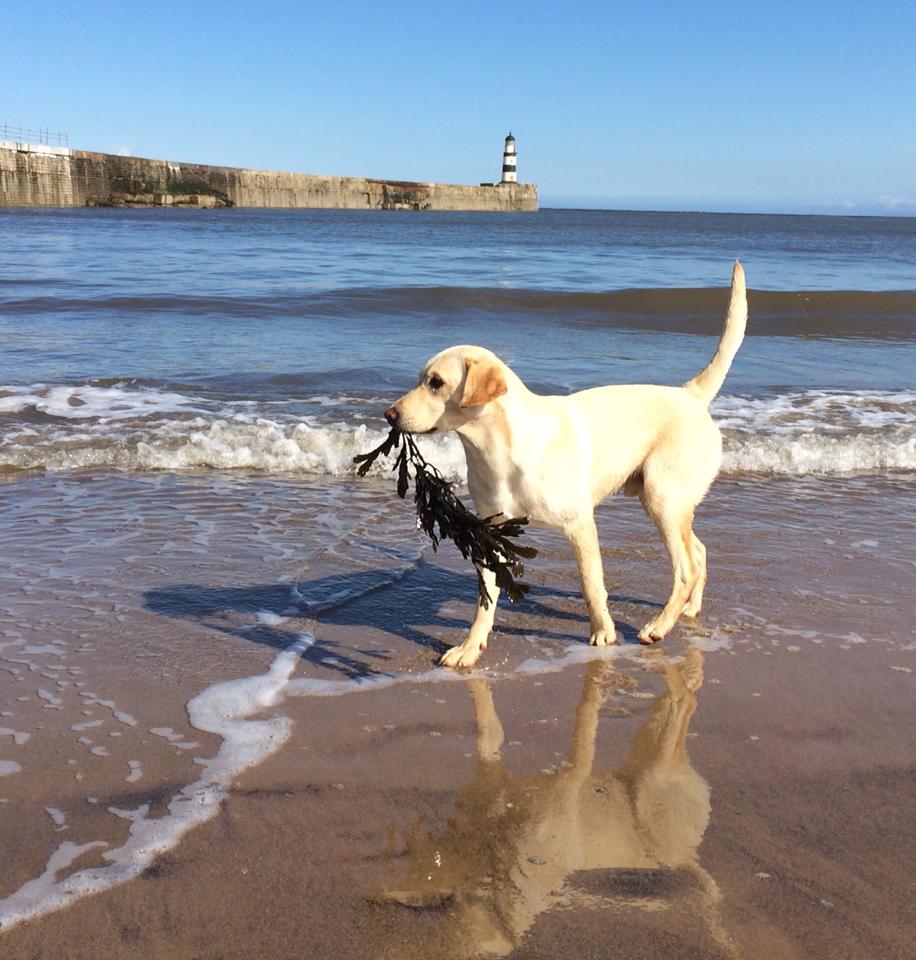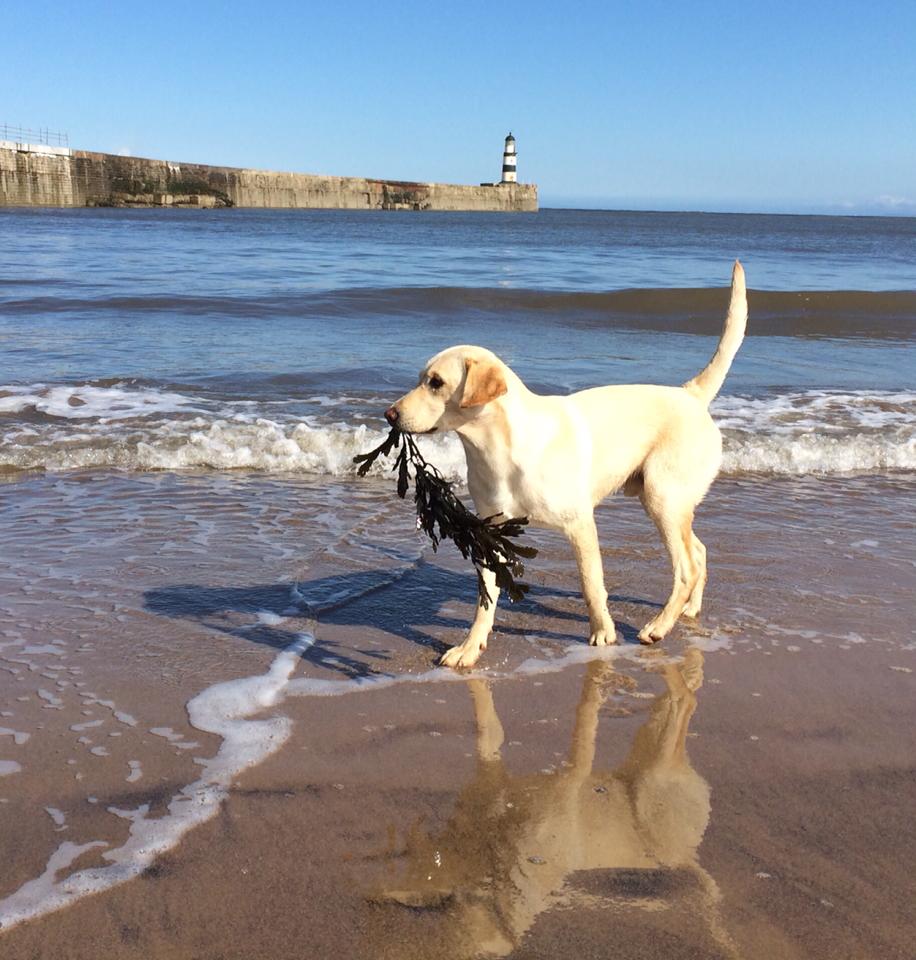 On the left you'll see a picture of Oscar on a trip to the beach. It was a busy day at the beach and Oscar did well to resist the temptation to investigate every other dog there and also stayed admirably obedient whilst the family enjoyed a barbecue. Getting used to the perpetually-moving sea and shifting sand underfoot is a valuable experience for any dog, as well as exciting objects like strangely-textured seaweed and interesting rock pool finds.
The family were looking after a friend's dog for a few days this month. Olly, a black Labrador of about three or four years is also a well-trained gun dog and has been visiting the house regularly for a few years, well before Oscar became a permanent fixture. Mrs R noted how the pair's relationship has altered as Oscar has grown bigger and stronger. When Oscar was a puppy, Olly would put up with Oscar's playfighting, whereas now he is just about fully grown, he gives a bit back to assert a little dominance over the younger dog. I witnessed them playfighting and Oscar frequently got the upper hand, though how much of that was Olly showing some restraint I don't know. It was fun to watch though and reminded me of little boys having funfights in the playground. They also fought over sticks when out on walks and, as the photo below shows, Olly managed to oust Oscar from his prime position in front of the wood-burning stove on occasion. Incidentally, Olly is also now doing well on Dr John Titanium, since we covered his switch in feed in the last article. His owners were so impressed with Oscar's improvement on the new food that they switched Olly to it as well.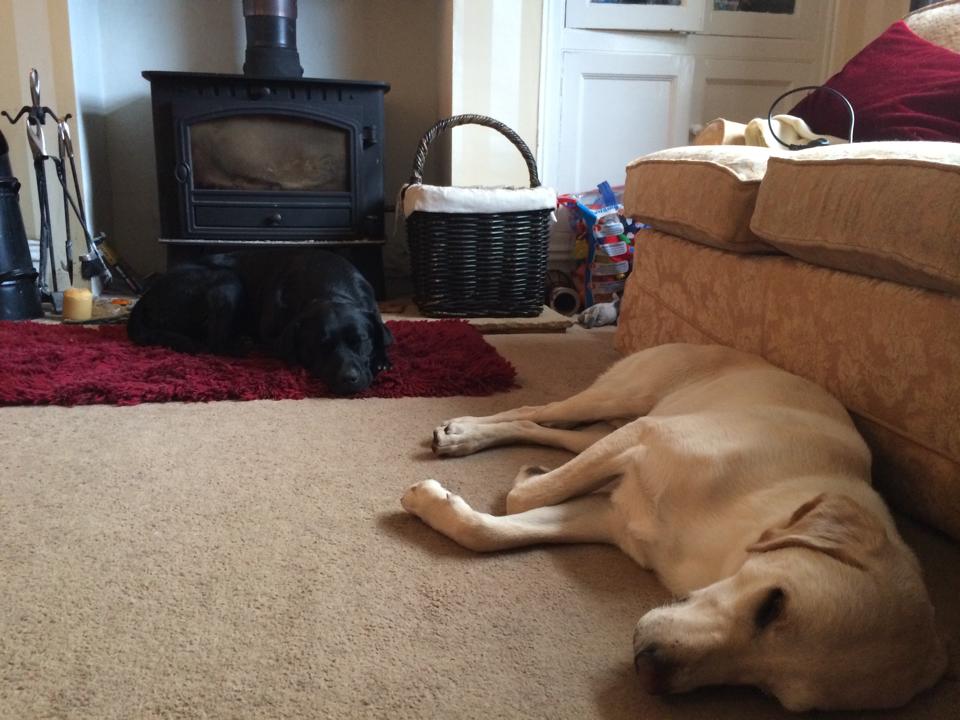 The last time Oscar went on a camping trip with the family, he was much younger and reacted to every rustle in the darkness, making for a night of little sleep for Mr and Mrs R. This half term, the family spent a few days wild camping and were relieved that Oscar was a lot more chilled out, happy to trust Mr and Mrs R and rest in the tent porch at night without jumping up at every noise.
In terms of his gun dog training, Oscar and Mr R have been working hard to iron out his quirk, mentioned in Episode 6, of mouthing, but not retrieving, live game. Mr R has been taking Oscar out pigeon shooting on a regular basis and says that, 'A combination of steady practice, strong discipline and high praise has really helped.' He's even retrieved live, non-shot woodcock and pheasant perfectly undamaged which they have been able to release. They have also been working on his casting (following hand directions and signals at a distance – an essential skill for a gun dog), which is improving greatly.
When it comes to flushing game, Mr R has been trying to develop greater control in this area. So rather than Oscar bounding about enthusiastically, flushing game here, there and everywhere, which may or may not be in range for shooting, he is now staying within a sensible range and actively looking for birds to flush within that range. To then extend the control and Oscar's obedience at long range, Mr R has been encouraging Oscar to cross rivers, particularly when Oscar knows that there is no retrieve to pick up, for no reason other than to test Oscar's obedience. Mr R often makes sure that there is something to flush up or down stream once he's over there as a reward for his obedience.
Through Oscar's Eyes
I've been in this world for a whole human year; summer, autumn, winter and spring. I've had a great year, learning lots about my job as a gun dog and my family have made learning fun. We've been on a few holidays this year and had lots of trips out to different places. We've played in the sea and swum in rivers, slept in tents up hills and in the woods. I've been on shoots, flushing and retrieving. And at the end of the day, I am given a really good feed and then I get to lie down on the rug in front of the stove and enjoy a well-earned rest. That's if Olly hasn't got there first! This is the life!