Does Dr John Titanium have Magical Powers?
17/04/2015
Well, of course it doesn't! I thought I'd better clarify that before loyal customers worry that we've wandered off into New Age philosophy and food faddism.
The title has more to do with the feedback we've been getting directly from owners about the very positive feeding results they've seen from Dr John Titanium, particularly in circumstances where other feeds have been causing problems. If you've been following our series of articles on Oscar the gun dog puppy, you'll know that, despite his owners' concerns, he's responded brilliantly to the move onto Titanium and is healthier and more settled than he'd been on his first (non Gilbertson & Page) food.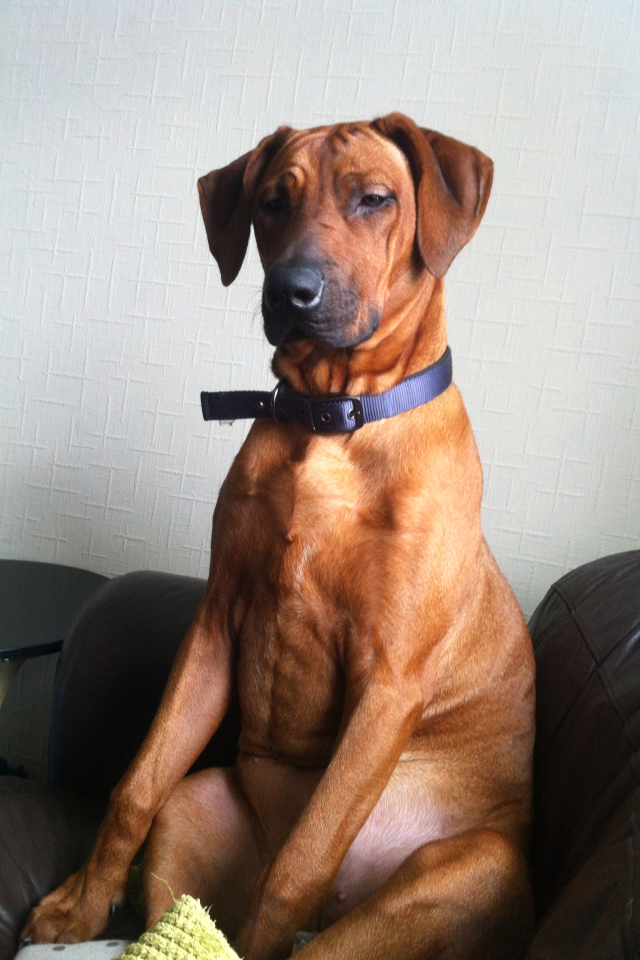 On an entirely different level, we've recently been contacted by Shane, the proud owner of a superb Rhodesian Ridgeback called Nia, who's so pleased with the results from Titanium that he wanted to share the story. First, though, let's take a look at Nia on the left – she looks like quite a character, doesn't she, and she's not even a year old yet.
Shane's had Ridgebacks for 13 years or so, but lost Sasha just over a year ago. He quickly realised that life wasn't the same and went looking for another Ridgeback. Fortunately, his membership of a Facebook group for Rhodesian Ridgebacks led him to a breeder with a litter on the way and Nia was born in mid-May 2014. Having to wait until July to bring her home was clearly difficult, but that has been made up for many times over by her loyalty, manners and 'people appeal' – apparently she receives lots of compliments when she's out and about.
The surprise is that Nia didn't have the easiest start when it came to feeding and nutrition. Her mother (also Nia) was unable to feed the litter due to illness, so young Nia was hand-reared initially. Once Shane brought Nia home, she continued on the feed that the breeder had introduced, but it was clearly causing problems, as she suffered from the runs constantly. It was at this point that Shane's mother contacted Samantha, Gilbertson & Page's Head of Nutrition, for advice and a recommendation.
This led to Nia changing feeds to Dr John Titanium and, as often happens with canine diets, the results were quite rapid and, fortunately for Nia, very positive. The digestive problems have stopped and Nia's weight and condition have improved substantially. In fact, Shane tells us that, at her last vets visit, she had not only reached 44kg (wow!), but the vet wanted to know what Nia was being fed on as she was in such great condition!
We really appreciate Shane getting in touch and being so complimentary about the benefits of Titanium for Nia. Having invested quite a lot of time and energy into developing what is a technically-challenging and carefully-formulated feed, it's becoming clear from what owners tell us that Dr John Titanium may not be magical, but it does seem to work really well for many dogs in their early lives.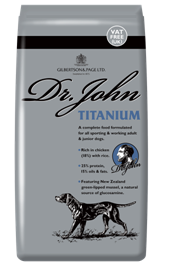 Features
Rich in chicken (18%) with rice.
25% protein, 15% oils & fats for that little bit extra.
Crunchy bite sized pieces basted with chicken juices.
Featuring New Zealand green-lipped mussel extract (a natural source of glucosamine) along with ayurvedic herbs for improved mobility and joint health.
Composition

Cereals (minimum 4% rice), meat and animal derivatives (minimum 18% chicken), oils and fats, milk and milk derivatives, yeasts, mixed herbs (450 mg/kg), minerals, molluscs and crustaceans (50 mg/kg).